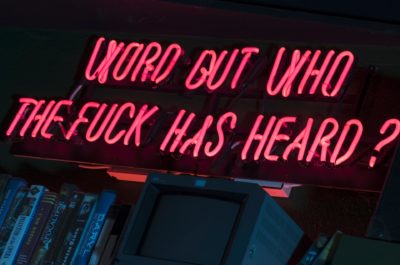 About the
GALAAXY
Nothing that can be found here is reminiscent of clichéd "Alpine chic"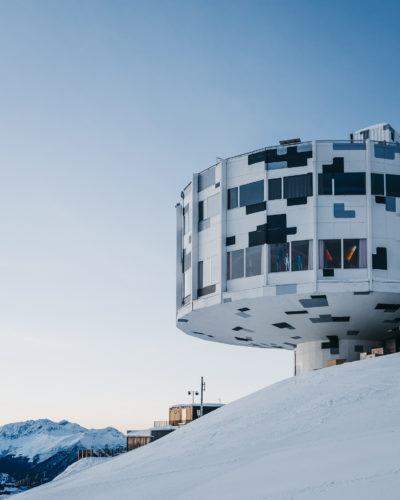 Since 1967, the cable car station on Crap Sogn Gion has been a central point in the LAAX ski area in Switzerland. On the occasion of its 50th anniversary, the dismal building was given a complete facelift in 2017 – inside and out.
With the modern "Digital Camouflage" look of the exterior façade, the station now joins the modern urban design of the freestyle destination.
And inside? Nothing that can be found here is reminiscent of the clichéd "Alpine chic". Design elements that reflect the urban lifestyle of the region and the connection to nature give the GALAAXY its unique character and the rooms a homely charm. The Weisse Arena Group is thus bringing the metropolitan trend of turning public spaces into urban living space to the mountains for the first time.
Sustainable decision
LAAX commissioned restauranteur Sami Khouri from Zurich to redesign the 5000 sq meter mountain top station. Khouri is known in the scene for the implementation of unique gastronomy concepts that inspire visitors again and again. Instead of rebuilding the station from scratch, the Weisse Arena Gruppe exploits the architectural potential of the building and uses existing resources. The concept is based on the principles of the region "reduce, reuse, recycle."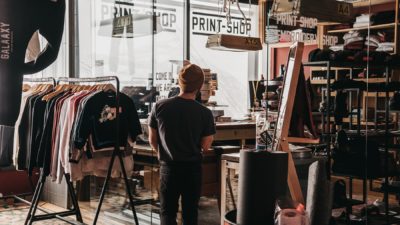 Galaaxy Shop and
Tattoo Studio
New this winter: The GALAAXY Print Shop now gets under your skin!
After the biggest halfpipe in Europe, the first skatepark at 2252 meters, we are breaking another record this season with the highest tattoo studio in the Alps.
Our Galaaxy Merch is still available. Get a Galaaxy shirt, hoodie, beanie or cap as a souvenir. Or have a coffee while your friend is getting tattooed.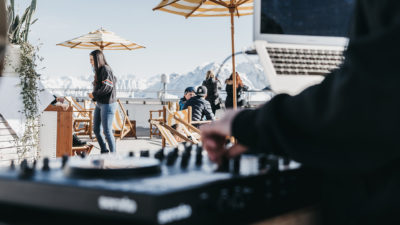 Those who want to go even higher should definitely visit the Platform above the Bridge. On this exclusive 360-degree panoramic platform you can enjoy the perfect view of the destination while relaxing with a refreshing drink in the beach chairs.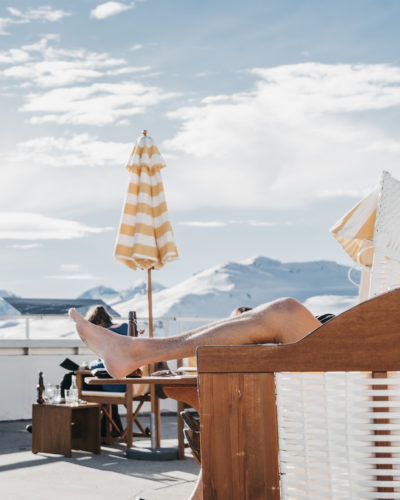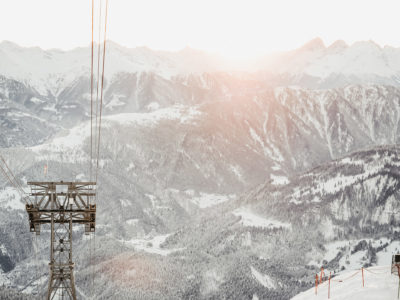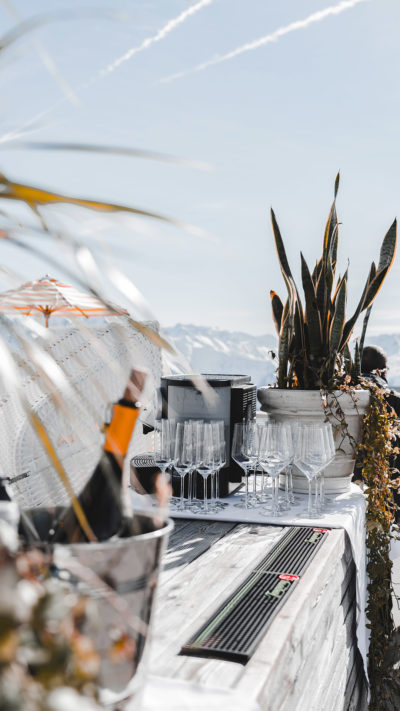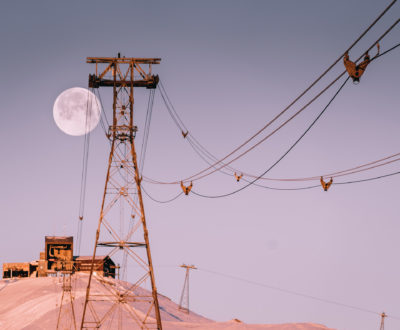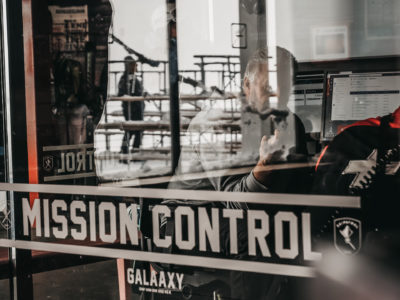 The so-called Mission Control is located transparently in the heart of the GALAAXY. The Mission Control is the communication center for the ropeway team. Here, all the lifts, slopes, weather and snow conditions are monitored, and piste machines and SOS operations are coordinated.
Landing Deck
Arriving at 2252 meters, visitors first encounter the landing deck, where the GALAAXY surprises with unusual elements, structures and color combinations. The retro design with old monitors and VHS cassettes enlivens the corridors of the top station and brings the charm of the 80s to life. In the "Wall of Wax", for example, everyone can play their favourite song from 14'000 records. Those waiting for the transit to the next mountain will find themselves in "The Library" in a cosy ambience full of bookshelves.
Discover the GALAAXY Event Locations
Book your favorite GALAAXY location for your next event